Putting Québec foods in your shopping cart
By opting for Québec foods, the entire population helps to support our farmers, fishermen and food processors.
Take part in the $12 challenge
Replace $12 worth of imported products in your grocery cart each week with local products.
On an individual scale, this simple act seems insignificant. But as you can see, multiplying it can make a very big difference:
If every Québec household contributes, local businesses will see demand increase by $1 billion.
These efforts would increase the level of purchases from Québec suppliers from 51% to 56%.
Food autonomy
The coronavirus pandemic has heightened the public's interest in local food. The government also reaffirmed the importance of increasing Québec's food autonomy. The idea is to reduce our dependence on external food supplies.
This approach can help create jobs in the regions and increase the market share of biofood companies.
Variety and availability of Québec foods
In addition to fresh vegetables and fruit, Québec produces staple foods such as biscuits, pork, prepared meals, pasta, frozen vegetables and even pet food.
For the same quality, Québec food is not more expensive and is available in quantity, all year long. It is also becoming easier to pick out these foods at retailers.
For a variety of reasons, consumers want to know the exact origin of the fruits and vegetables they buy:
They want fresh, high-quality fruits and vegetables.
They want to support certain producers.
They promote buying local.
They do not want to buy products from certain producers or countries to avoid supporting them (for political or humanitarian reasons, among others).
It is important to know that regulations cover the indication of the origin of fresh fruits and vegetables from Québec.
Retailer obligations
It is possible to trace fresh fruits and vegetables from Québec at retailers. Retailers must indicate the Québec origin of these agricultural products:
when pre-packaged or sold in bulk at retail, e.g. at farmers' markets, fruit shops, or grocery stores;
in all advertisements for their sale, such as flyers and posters.
To eliminate all doubt, the authorised expressions are:
Produit du Québec [Product of Québec]
Cultivé au Québec [Grown in Québec]
Récolté au Québec [Harvested in Québec]
Name of the product from Québec (ex. Québec strawberries)
Ways to indicate the origin
There are various ways for retailers to indicate the origin of fresh fruits and vegetables from Québec:
Prepackaged Québec products: the origin must be indicated directly on the package or on a sticker affixed to the package.
Québec products sold in bulk: the origin must be indicated on a poster, sign, notice, or any other appropriate visual aid placed near the product being sold.
For more information, consult this Guide for retailers (in French only): Guide d'application – Indication de l'origine des fruits et légumes frais (PDF 607 Kb).
Difference between origin and provenance
The origin of an agricultural product is the place where it was grown or harvested.
The provenance of a product refers rather to the places or locations where it is found. For example, tomatoes originating in the United States may come from Ontario and be packaged in Québec.
The origin of a fruit or vegetable is therefore unique.
Aliments du Québec Certification Labels
To make it easier for consumers to find Québec products, many Québec companies have joined Aliments du Québec
.
This means that their products can benefit from one of the following certification labels:
Aliments du Québec, Aliments préparés au Québec, Aliments du Québec bio, Aliments préparés au Québec bio.
The logos (with other possible colours and variations) can be found on the packages of Québec products or on price tags.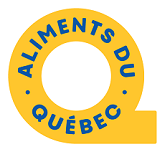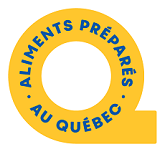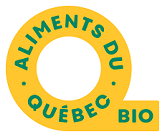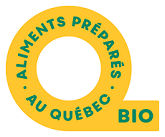 If you prefer local products but don't see a logo, you can also ask the grocer or restaurant owner for guidance.
Promoting Québec products in restaurants and establishments
The Aliments du Québec au menu
program recognizes establishments committed to local sourcing.
Whether in a grocery store, restaurant or cafeteria, you'll find Québec foods on the menu of well-known establishments. A list of these establishments is available on the program's website.
Reserved designations and added-value claims
Consumers are looking for unique and local flavours, as well as those that are part of our heritage.
In response to this demand, some products are given a reserved designation or added-value claim. Such recognition aims first of all at legally protecting the name of a product. For consumers, it is a way to ensure its authenticity.
This recognition also contributes to the reputation of the product and the development of the companies that benefit from it. It can promote regional development by stimulating economic activity among businesses in a region.
Reserved designations recognized in Québec
The term "reserved designation" refers to products that are distinguished by their particular characteristics or method of manufacture.
The designations that are currently recognized refer to the production method, or the link with a terroir or a specificity:
Added-value claims
An added-value claim is used to designate the particular characteristics or methods of manufacture or production of a product, for example:
original know-how;
a characteristic breeding method;
a singular form of culture that is linked to the geographical configuration of the land;
a manufacturing process linked to the climate.
The reputation of the product is another factor that is considered for the use of this claim. The public must have a positive opinion of the product and associate its quality with its geographical origin.
Certification and monitoring
The authenticity of the reserved designations and added-value claims is guaranteed by the allocation of a certification and a logo. These elements attest that the product has gone through the whole process and that it meets the specifications or standard defined in a regulation.
The Conseil des appellations réservées et des termes valorisants
(CARTV) is the body that recognizes and monitors the use of reserved designations and added-value claims.
Reporting a violation
If you believe that a company or certification body is violating the standards of a reserved designation or added-value term, you can file an audit request
to the CARTV.
Filing an application for recognition
Business associations or groups may apply for a reserved designation or an added-value claim in Québec. Consult the page Obtaining recognition of reserved designations and added-value claims
.
Financial support
The Support program for the development of reserved designations and added-value claims
promotes the creation of new reserved designations and new added-value claims. It supports projects presented by associations or groups of companies and offers them assistance.
The information presented on this website has been made available in plain language and is a summary of the key regulatory provisions. It does not replace the official texts of laws and regulations. For more detailed information, refer to the Regulation on the indication of origin of fresh fruits and vegetables
and the Act respecting reserved designations and added-value claims
on the LégisQuébec website.
Last update: July 26, 2022