The ministère du Conseil exécutif is under the direct authority of the Premier. It carries out specific and unique functions concerning the governance of the public administration.
The role of the Conseil exécutif, also known as the Conseil des ministres, is to define the orientations of the government's activity and direct the administration of the state. With the lieutenant governor, it forms the government of Québec.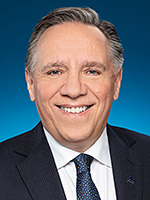 François Legault
The premier
Responsible for youth cases
Responsible of Relations avec les Québécois d'expression anglaise
Consult the Premier's section

Parliamentary functions

Biography

Contact the Premier
Agenda
(in French only)
The organization and its commitments
The Department is dedicated to supporting decision-making by government authorities. In this capacity, it provides analysis, advice and coordination to the Prime Minister and the Council of Ministers. It is also responsible for certain priority files, the coordination of which is entrusted to it under a specific government mandate.
The ministère du Conseil exécutif is headed by the Secretary General and Clerk of the Conseil exécutif. In addition to his responsibility regarding the operation of the Ministry, the Secretary General is the senior public servant of the state and, as such, is the hierarchical superior of all the government's deputy ministers.
Last update: September 29, 2020