Office of the Premier
The Premier's office is located in Édifice Honoré-Mercier, near the Parliament Buildings. Constructed between 1922 and 1925, this building is considered a gem of Québec's heritage. The Premiers of Québec were headquartered there until 1972, when the Office was moved to Édifice J, on Grande Allée. After painstaking renovations, the building was reinstated as the location of the Office of the Premier in 2002.
Furniture
The furniture that graces the Premier's office was crafted in 1958 in the workshop of maison E.‑A. Rousseau, in Québec City. The furniture was specially commissioned by the caucus of the Union nationale party as a birthday gift for its leader, Premier Maurice Duplessis. This furniture has served every Premier of Québec ever since.
Honoré-Mercier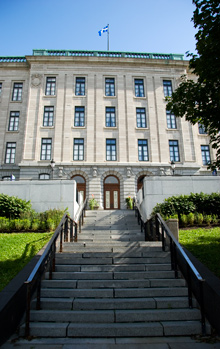 Édifice Honoré-Mercier, part of the suite of Parliament Buildings, is located at 1025 rue des Parlementaires, off boulevard René-Lévesque. Constructed according to the plans of architect Raoul Chênevert, the four-storey building houses the Conseil exécutif, the Cabinet Room, and the Office of the Premier.
The building is named after the ninth Premier of Québec. Elected in 1879 to represent Saint-Hyacinthe, Honoré Mercier became Premier in 1887, when the party which he helped to found, the Parti national, was elected to power.
Last update: August 9, 2022