Self-Care Guides - COVID-19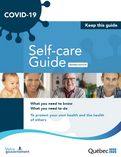 This guide is designed to enable Quebecers to make the best possible decisions to protect their health and the health of their loved ones during the COVID-19 pandemic. More specifically, it indicates to them how best to protect themselves against COVID-19, take care of themselves and provide basic care to their family circle, and know where and when to consult if the need arises for care services.
PDF version
Download Self-care guide - COVID‑19 - Last update August 28, 2020 (PDF 2.20 Mb)
Personal medical record - Interactive form (pages 20, 21 and 22) (PDF 129 Kb)
Accessible versions
Download Self-care guide - COVID‑19 - Revised version March 30, 2020 (RTF 772 Kb)
Complete text transcript of the Self-Care guide - COVID‑19 - Revised edition March 30, 2020
Self-Care Guide - COVID‑19 – American Sign Language
Decision Fact Sheet
Decision Fact Sheet is available in PDF and RTF format in many languages.
Paper version
You can order this document
.
You can order the Self-Care Guide in braille, in large print format as well as in an audio version, by calling 1‑877‑644‑4545 or the TTY number at 1‑800‑361‑9596.
Self-care Guide for Parents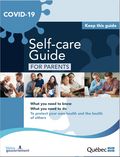 Last update: September 2, 2020