Mould is a fungus whose spores are invisible to the naked eye. It gets into houses by the air currents, humans and pets. To grow, mould needs water and nutritive material, such as drywall or cardboard. When there is significant mould growth, it can lead to health problems. To learn more about these problems, read Health problems caused by mould.
How to spot mould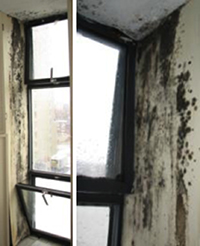 Mould is often found in damp and poorly ventilated areas.
Mould can develop anywhere in the house. There are certain signs that indicate the presence of mould or too much moisture:
Spots in all colors, but often green or black:

On walls, ceilings or carpets
Around windows
In closets, etc.

An earthy smell
The presence of stains, buckling or peeling or other signs of water seeping through walls or ceilings, which could indicate a hidden problem
It is usually not necessary to analyze air or surfaces to confirm the presence of mould. When mould is visible, or if there are signs indicating its presence, you should instead conduct a thorough inspection of the house to find the cause and take appropriate measures to fix the situation. To learn how to clean a surface with mould, read Eliminating mould.
If you are a tenant or landlord and have noticed mould in your home or property, read the Help and resources section.
Tips for finding possible causes
Inspect the outside of your house at least once a year to make sure that everything is in good condition:
Roof
Siding
Attic
Gutters
Joint seals
Drains, etc.
Regularly maintain your house and conduct a complete inspection of all rooms at least once a year. This will enable you to detect traces of water infiltration and mould:
Behind furniture
In closets and storage spaces
In the basement, etc.
Preventing mould growth
Act quickly in the event of water damage
Standing water, infiltrations and wet materials promote mould growth.
Completely clean and dry all water damage within 24 to 48 hours. Beyond this period, mould may develop.
Discard porous materials heavily damaged by water, such as:

Drywall
Carpets
Cardboard tiles
Insulation
Mattresses
Upholstered furniture, etc.
Avoid high humidity in your home
The regular presence of condensation on windows or walls may indicate that the humidity is too high. To avoid increasing indoor humidity:
Limit long showers.
Turn the fan on when taking a bath, showering or cooking.
Make sure the dryer hose is connected to an external output.
Limit the use of humidifiers, and follow the maintenance instructions provided by the manufacturer.
Empty and clean the dehumidifier tray regularly. In summer, it is usually recommended that you run it in the basement. Follow the instructions provided by the manufacturer to ensure proper usage.
Make sure that the humidity in the house is kept low enough to prevent condensation (usually between 30% and 55%). Inexpensive devices for measuring humidity (hygrometers) are available at most hardware stores.
Avoid storing firewood indoors.
Ventilate properly
Open windows, if necessary, to ventilate the house.
Make sure that ventilation systems, such as an air exchanger, are used properly and follow the maintenance instructions.
Eliminating mould
It is important to identify and fix all causes of water accumulation or infiltration, such as broken pipes, flooding or sewer backup.
Clean affected surfaces immediately, and dispose of damaged, porous materials
For small areas (windowsills, for example):
Wipe away mould spots with a clean cloth and an all-purpose cleaner.
Dry surface well.
It is not necessary to use bleach. It is recommended only to disinfect objects that could come into contact with the mouth, such as children's toys or food.
If the surfaces affected are large (over 1 m2), numerous or difficult to clean, or if the mould comes back after cleaning:
Call in a specialized firm. They can better evaluate the extent of work to be done and help you find and fix the cause of the problem.
Discard porous and water-damaged items.
Precautions for protecting yourself when cleaning
To avoid exposing yourself unnecessarily to mould, it is recommended that you wear protective goggles, rubber gloves and a dust mask. These items are inexpensive and available at hardware stores.
Avoid doing the cleaning when other people are in the room. This applies particularly to more vulnerable people, such as children and people with asthma or allergies. Be sure to ventilate the area before allowing people back in the room.
Help and resources
For technical advice, consult the Mould in housing section in the Canada Mortgage and Housing Corporation (CMHC) website .
Many private companies offer cleaning services. Make sure that the company you choose has the required qualifications for finding and confirming the cause, location and extent of the problem. Do not hesitate to ask questions about the company's experience. Air samples are often very difficult to interpret. In most cases, they are not necessary for assessing the problem.
For tenants and landlords
If you are a tenant and believe that your home has a mould problem, inform your landlord first. If necessary, contact your municipality's inspection services.
In case of a dispute with your landlord or tenant, contact the Tribunal administratif du logement .
To find out more, go to the Unsanitary Conditions page on the Tribunal administratif du logement website.
Last update: November 30, 2022