Products and materials containing asbestos fibres are known for their flexibility and strength. They have long been used in the construction and renovation of buildings because they are resistant to heat and act as a noise buffer.
However, asbestos fibres are a health risk. Over time, a person exposed to asbestos fibres may develop a chronic lung disease such as asbestosis or one of the following cancers: mesothelioma, lung cancer, laryngeal cancer or ovarian cancer. The more you are exposed to asbestos, the higher your risk. For more information, read The effects of asbestos on health.
Potential sources of asbestos in the home
In Québec, products and materials containing asbestos were mainly used by the construction industry between the years 1930 and 1990. That is why residential buildings that were constructed or renovated during that period may contain asbestos in various places.
Some materials containing asbestos (mainly asbestos cement products) are still on the market. These materials are used to manufacture pipes and heat shields for fireplaces.
Potential sources of asbestos in the home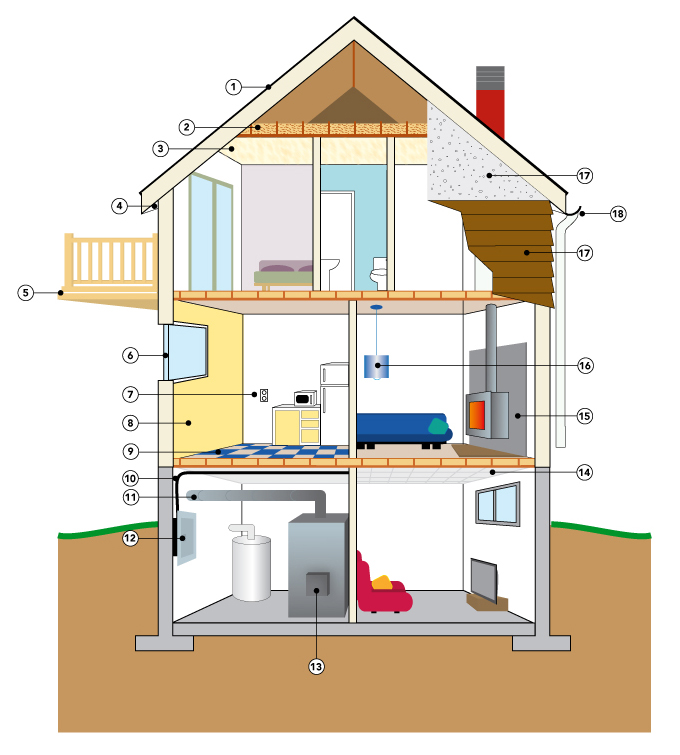 Source : Image adapted from Workers' Compensation Board (British Columbia)
.
Felt, construction material and roof shingles
Blown-in, friable, loose-fill insulation (vermiculite, for example)
Acoustic tiles or soundproof ceiling
Soffits
Subfloor membrane
Window caulking
Receptacle box and power switch
Wall and ceiling coating (stucco, for example), patching compound and drywall repairs
Floor covering: vinyl tiles, linoleum, adhesive coating
Insulation on electrical wires
Insulation on pipes
Main electrical panel and fuse box
Central heating system (furnace), water heater (insulation material, duct tape, seals)
Acoustic tiles or soundproof ceiling
Fireplace, woodstove (base, heat shield)
Lighting fixture
Exterior cladding (stucco, asbestos cement, for example)
Asbestos cement gutter
Vermiculite insulation
Vermiculite is an insulation that comes in pellets ranging in colour from silver-gold to grey-brown. It was once used to insulate crawlspaces (attics, attics with access doors, garrets, etc.) in homes. Some vermiculite insulation marketed between 1920 and 1990 may contain asbestos fibres. If your crawlspace contains vermiculite, or if you suspect that it may be the case, be sure to:
Limit access to the crawlspace.
Inform everyone using the crawlspace about the certain presence or possibility of asbestos in the insulation.
Store nothing in the crawlspace because it might disturb the insulation.
If you must go into the crawlspace, wear a breathing mask with a filter to protect against particles and spend as little time as possible there.
Entrust a qualified professional to remove the insulation or do any other renovations in the crawlspace.
Never try to remove the insulation yourself.
Seal all cracks or holes between the ceiling and the crawlspace.
Caulk the door to the crawlspace and around light fixtures.
General precautions to take in presence of asbestos
Airborne asbestos fibres are a health hazard to those exposed to them. Materials that contain asbestos and are in good condition do not release fibres into the air and are generally safe.
Materials that contain asbestos can release fibres into the air:
When they are friable (they can be crumbled or reduced to powder – like plaster, for instance) or in bad condition
When they are handled. For example, sawing, drilling, cutting, sanding or breaking materials containing asbestos releases varying amounts of asbestos fibres, depending on the nature of the work
Do not handle materials containing asbestos that are in good condition. Check regularly to see if they are worn or damaged.
Hire a qualified contractor if the materials are in bad condition or friable or if you wish to have work done on materials containing asbestos.
Precautions to take during renovations
When in doubt, check whether or not materials contain asbestos
Verification should begin with a careful visual inspection of the building. It is not easy to conduct such an inspection by yourself. It must be done by one of the following:
When in doubt, you should handle the material as if it contains asbestos and follow appropriate recommendations.
Where there is asbestos, hire a qualified contractor to do the work
Never do the work yourself if an inspection reveals any type of material containing asbestos. Carefully select a qualified contractor to do the job. The contractor will do the work in such a way as to prevent the asbestos from being airborne in your house. This will reduce hazards to your health and that of other occupants.
Criteria for choosing a qualified contractor
There are no official accreditation or certification programs in Québec for professionals who carry out work in places with asbestos. However, certain measures can help you identify the right contractor:
Consult the Licence holders' repertory to verify whether the contractor holds a Régie du Bâtiment du Québec permit.
If it is a specialized contractor, make sure that the licence held indicates one of the following subclasses:

Site work (2.7)
Insulation, waterproofing, roofing and siding (7)

If it is a general contractor, make sure that the licence held indicates one of the following subclasses:

Small buildings (1.2)
All buildings (1.3)

Check whether the contractor has had special training for dealing with asbestos and has experience in that area.
Demand that the contractor respect provisions in the Safety Code for the construction industry regarding working with materials that contain asbestos.
Check with the Office de la protection du consommateur if there have been any complaints about the contractor of if the contractor is subject of a complaint file with the Régie du bâtiment du Québec .
Do not hesitate to ask the contractor to provide you with a detailed estimate specifying work to be done, costs, schedules, insurance and guarantees. You can also ask the contractor to agree in writing to respect all health requirements and remedial action. Such an agreement can be part of the renovation contract. A guide of items to include in a renovation contract is available on the Régie du bâtiment du Québec website.
Safety during construction
Do not enter the work area established by the contractor.
If you have a mechanical ventilation system in your home, shut it down during construction.
The contractor must take all necessary measures to protect your health and that of workers. For example:
During construction, waste containing asbestos must be placed in airtight containers.
At the end of construction, the work area and surroundings must be cleaned using a vacuum cleaner equipped with a high-efficiency filter. The area may also be dampened before cleaning in order to minimize airborne dust.
Workers must wear protective clothing and accessories (masks, disposable coveralls and gloves).
Things to check before purchasing a property
Before buying a house, ask the seller whether or not the property has asbestos. You can verify the form titled Declarations by the seller
(in French only) of the Immovable, which is mandatory for the sale of a residential building. This form includes questions regarding the presence of insulation products that may contain asbestos, such as vermiculite.
Last update: January 12, 2021