People who inject drugs with used equipment are at greater risk of contracting certain sexually transmitted and blood-borne infections (STBBIs) such as hepatitis B and C and HIV. Distributing new injection equipment to people who use drugs encourages them to adopt safer practices and reduces the risk of catching or spreading STBBIs.
Some of the new injection equipment available at injection equipment access centres includes:
Syringes
Sterile water
Filters
Cookers (containers for dissolving and heating drugs)
Sharps disposal containers
The distribution of new injection equipment is supported by the World Health Organization (WHO). It does not encourage the use of illicit drugs or criminal activity.
Injection Equipment Access Centres (CAMIs)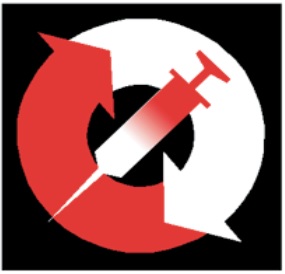 Injection equipment access centres (CAMIs) are places where people who use drugs can obtain new injection equipment anonymously.
CAMIs may be found in various locations:
Pharmacies
CLSCs
Hospital centres
Clinics
Family medicine groups (GMFs)
Drug addiction rehabilitation centres
Community organizations
A logo identifies resources that provide access to injection equipment. This logo consists of a black square that displays a red and white syringe on 2 circular arrows, one red and the other white.
Other Services Provided by CAMIs
In addition to providing injection equipment, most CAMIs collect used syringes.
Some CAMIs also provide additional services, for example:
Access to safer inhalation equipment
Access to care and treatment
Information and education
Listening and support
Vaccines against STBBIs
STBBI screening
Referral to specialized STBBI and drug addiction resources
Eligibility
New injection equipment is available to everyone. People who wish to obtain drug injection equipment do not need to register anywhere, consult someone to get a referral or have a Québec health insurance card.
People younger than 14 must however meet with a healthcare professional to gain access to new injection equipment.
Procedure
To find contact information for a resource that provides new injection equipment, consult the Finding an Injection Equipment Access Centre (CAMI)
section.
Last update: May 24, 2019